Table of Content
---
Introduction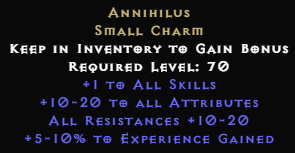 "Diablo Walks the Earth", these are the famous words to warn you of the rise of the Diablo Clone. This special event, known as the "World Event", is the only way to gain access to the most sought after and powerful Charm in Diablo 2, the Annihilus.




---
Spawning Diablo Clone
Multiplayer
Between 75 and 125 copies of The Stone of Jordan (SoJ) have to be sold to a vendor in town, to trigger this event. The SoJ sold count restarts after the last spawning of Diablo Clone on a Multiplayer server.
The SoJ can be sold in any difficulty (Normal, Nightmare, Hell) / mode (Softcore, Hardcore, Classic, etc.) to increase the counter.
When an SoJ is sold on a server, every game on the same IP-address receives the message "xxx Stones of Jordan Sold to Merchants". The number displayed is a total sum of all sold Stones of Jordan and doesn't reset to 0 when the World Event is triggered.
WARNING: THE RINGS CAN NOT BE REPURCHASED AFTER SELLING, IT'S JUST GONE!
Single Player
1, in words ONE, SoJ needs to be sold in Single Player. ONLY SELL IT IN HELL WHEN YOU ARE READY TO FIGHT!
WARNING: THE RING CAN NOT BE REPURCHASED AFTER SELLING, IT'S JUST GONE!
Additional Information
When sufficient SoJ's are sold, the iconic message "Diablo Walks the Earth" appears in all Hell difficulty games of that server.
Diablo Clone spawns only in Hell difficulty. He replaces the first Superunique monster that you encounter. You have the ability to drag him to a place in which you want to fight him!
Example:
The World Event is triggered while you are farming Andariel in Act 1. Inside the Catacombs no Superunique exists, so Diablo Clone can't spawn here. Go back to town and choose the location in which you want to fight him. Frequently used spots are the Stony Field, where he replaces Rakanishu, and the Frigid Highlands, where he replaces Eldritch the Rectifier.
---
The Fight
The fight against Diablo Clone is very similar to regular Diablo. There are some nuances to take note off:
Diablo Clone moves a lot faster in general.
His Attacks are significantly stronger.
He starts by casting Armageddon as soon as you are in visual range.
---
Diablo Clone Stats
Resistances
Physical
50%
Fire
95%
Cold
95%
Lightning
95%
Poison
95%
Magic
50%
Skill
Damage Type(s)
Damage values
DiabLight
("Lightning Hose")
Physical Damage
Lightning Damage
189 to 207 per second
342 to 432 per second
DiabCold
(Melee Attack)
Magic Damage
87 to 121
Chills for 8 seconds
DiabWall
(like Firestorm
Physical Damage
Fire Damage
Multiple Hits (up to 27)
31 to 30
56 to 71
DiabFire
("Fire Nova")
Fire Damage
100 to 130
DiabRun
(Like charge)
Physical Damage
116 to 132
Diablogeddon
(Like armageddon)
Physical Damage
Fire Damage
200 Meteors over 62 seconds
56 to 72
210 to 275
PrimeFirewall
(Like firewall)
Fire Damage
43 to 44 per second
DiabPrison
You become caged by Diablo, similar to regular Diablo's cages.
---
Tips
Use the Stat "Prevent Monster Heal", which requires a successful attack to land on Diablo Clone. A Weapon of Vileness with this Stat can easily be shopped from any weapons Vendor. Add a Cold Damage or Poison Damage charm to easily see when a successful attack is applied.

Note: Mercenaries do not apply Prevent Monster Heal.
Skills and Attacks (through items) that deal damage on every single frame, such as Fire Wall, or Poison Damage stop regeneration while the damage is persisting.

Use Lower Resist on Elemental Damage Builds to reduce his 95% All Resistances (Fire / Cold / Lightning / Poison)
life Tap allows melee builds to heal 50% of their inflicting Physical Damage as Life.
Spawn Diablo Clone in an area in which you have an easy time killing off surrounding enemies.
Use capped Fire and Lightning Resistances against him.
---
Diablo Clone Hunting
Groups of players frequently pool SOJ's together to trigger the World Event. When sufficient SOJ's are collected, they decide on which region and IP adress Diablo Clone is spawned. As mentioned before, any game that is active when the final SOJ is sold on that IP spawns him. The process of finding a game on such an IP is called "Diablo Clone Hunting".

How does this work?
Create a game in the correct region.
Open an IP viewing tool. (Example: tcpview)
Check the IP address you are connected to.
Repeat the above mentioned steps until you find the IP.
Usually the exact IP address for organized spawns are not publicly known. However, sometimes players have sold a enough SOJ's since the last spawn on a server to make a "random spawn" possible. These IPs are called "Hot" to indicate that a spawn might happen here. Unfortunately there is no public database to check, showing you how many SOJ's have been sold on any IP since the last World Event.
---
Summary
Sell The Stone of Jordan to spawn Diablo Clone.
He spawns instead of the first Superunique you encounter after the message "Diablo walks the Earth".
Use Prevent Monster Heal to remove his fast regeneration.
Spawn him in an area in which you can kill surrounding monsters. Eldritch the Rectifier (Frigid Highlands), Rakanishu (Stony Field), and Corpsefire (Den of Evil) are popular places to do so.
---
Credits
Written by Teo1904
Reviewed by MacroBioBoi
---
---